Profile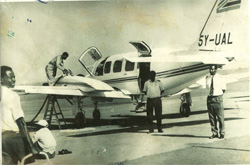 Eagle Air first leased aircraft in 1995
Eagle Air is a Private Ltd Company specialising in the provision of Charter and Schedule Air services both within Uganda and around the East & Central Africa Region.
Eagle Air was incorporated as an air operator in June 1994. In our 18 years of dedicated and uninterrupted service, we have established ourselves as a leading service provider to meet your executive and scheduled flight needs. Eagle Air targets clients who need fast, reliable and safe means of transport to the various business and tourist destinations within and beyond the East Africa region. That is why Heads of Government, NGO's, big business personnel and tourists from around the world have chosen Eagle Air as their gateway into the heart of Africa.
Proudly Ugandan
Eagle Air is 100% Ugandan and supports the mandate of developing aviation in and around the region by employing Ugandans in Key Positions. It supports over 100 families directly and indirectly. Eagle Air also endeavors to group and train young aviators in flying, maintenance and management of the aviation industry. To enhance safety and standards Eagle Air has invested in a multi - million dollar hangar development project which house all sectors of aircraft maintenance. The hangar facility shall be available to other operators other than Eagle Air, and a big tool towards enhancing local maintenance skills.
Eagle Air's Success Story:
Eagle Air 's success story starts way back in 1994 when it was first inaugurated as the only domestic airline serving the West Nile region with one single engine aircraft. Today the airline has grown and expanded its fleet to five twin engine aircrafts. Among our local competitors, we have the widest fleet.
The airline has maintained a number of fundamental rules that it strives to follow. These include a competitive pricing strategy, continuous improvement of services, on time departures and improved communication hence an excellent service.
KEY TO SUCCESS
Fleet Availability
Experienced Pilots & Engineers
Good Customer Care
Safety / Reliability.