Scheduled Flights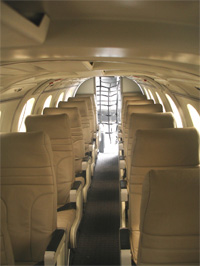 Eagle Air is currently the only airline in Uganda that offers the public regular schedule flights within the Country. We fly 3 times a week to Arua. This gives our clients the ease of an hours' flight opposed to a 6+ hour drive to Northern Uganda. Comfort, safety and efficiency are what we offer our clients.
On a regional level, Eagle Air flies twice a week to Yei and once a week to Juba in South Sudan. Our fleet includes a Beechcraft 1900 which has pressurized cabin making International flights faster and more comfortable.
Cargo transportation as part of our regular schedule flights is also available to our clients. Cargo deliveries are quick, and secure during transportation.
Feel free to contact our sales office on new routes that may be offered in the future.